Vietnam Visas for Americans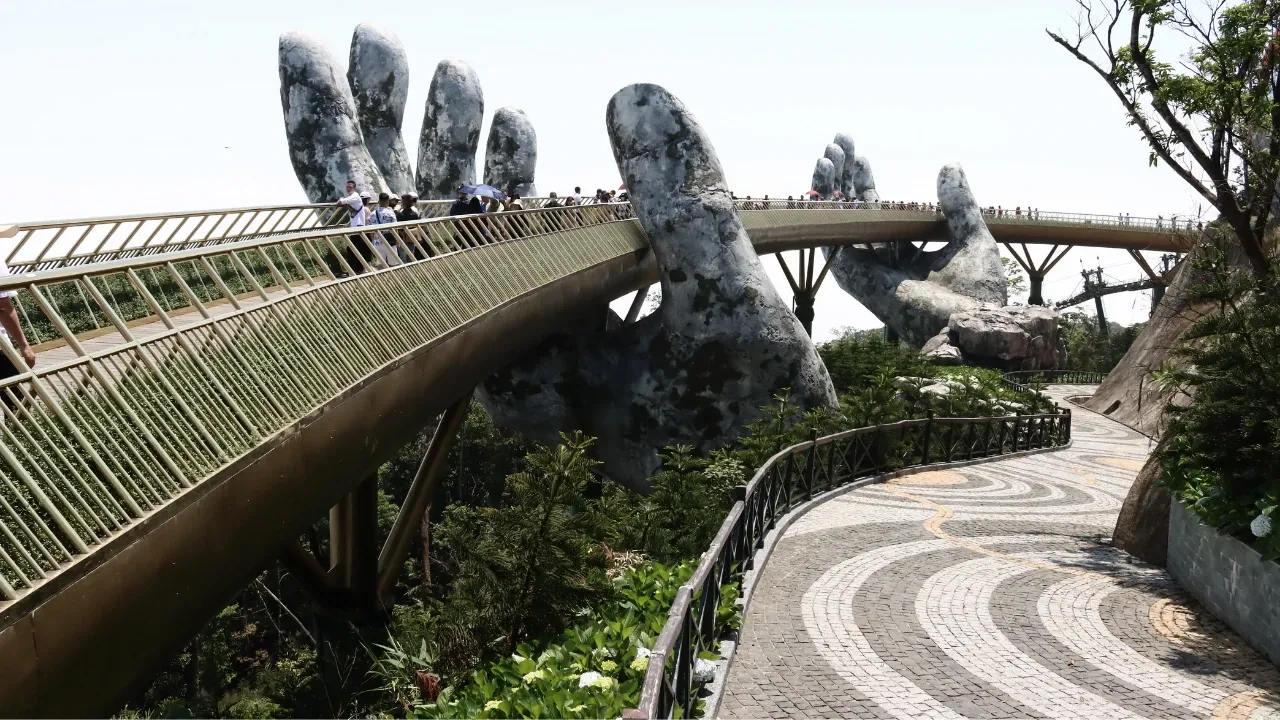 Update: This post was first written in 2019 when Vietnam offered a 1 year tourist visa for Americans. I'll update this periodically to keep it accurate.
You can apply for a 30 day e-visa. This is currently the only option unless you intend to get a job in the country. There is no retirement visa, no remote worker visa, no wealthy expat visa. It's only 30 day tourist visas, marriage excemptions or TRC which you get from having a job.
I first went to Vietnam in 2013 and loved it. I went back on a 1 year tourist visa in 2019 and then got "stuck" in Vietnam the following year because of Covid. Honestly, there is not a place in the world I would have rather been as the country was functionally open the entire pandemic.
I was traveling around beautiful Vietnam, visiting places like Ha Giang while everyone else was stuck at home.
My previous time in Thailand from 2012-2017
I used to live in Thailand on a non-b visa as an English teacher and then I did expensive visa runs for a year when I taught online for VIPKID. Obtaining a 3 month tourist visa, then leaving the country to obtain another 3 month tourist visa. Going to immigration constantly to extend visas and going to consulates abroad.
Side note: You can't do multiple visa runs like this anymore. Thailand as it has become a more wealthy country is more strict on visas. You can now safely do back to back tourist visas for a maximum stay of 6 months (180 days), but beyond that immigration will start to question you and could deny you entry.
I had an English friend who on his 4th tourist visa run had his 2-month visa that he paid for at the embassy in Vietnam converted to a 1-month visa on arrival by immigration because he was abusing the system. He subsequently got married and is now on a marriage visa.
Anyways, I got quite tired of paying money and dealing with Thai immigration almost every month. It was also annoying having to leave the country and go apply for a new visa at an embassy abroad in Laos, Korea, Japan or Cambodia.
I could not just travel worry-free. My Thai visa was always on my mind. So when I found out that Vietnam offers a 1 year tourist visa and that the only requirement was that you had to leave every 3 months I was sold.
No dealing with immigration? Great.
All I have to do is leave the country every 3 months minimum. Fine by me. I can travel where ever I want and don't need to worry about visiting an embassy? Amazing, and it's valid for 1 year?
Perfect.
I can actually focus on my online business and travel when I want.
How to Get a Tourist Visa For Vietnam as An American
The following is now not relevant but i'll leave it up if for reference. The only way you can get a visa for Vietnam is to go here to the official site.
Submit your information, pay the $25 dollar fee. Wait a few days and you'll be approved if you followed directions. Then fly to Vietnam. At the airport the airline will want to see your visa so make sure to print it out as you'll need it both at the airport and at immigration in Vietnam.
E-visa Requirements
If you are eligible for a Vietnam e visa, please make sure to have the following items to get the e-visa:
Passport valid for at least 6 months following arrival date and having at least 02 blank pages.
A passport-size photo. Literally just take a picture of one of your passport photos using your phone. Then transfer the picture from your phone to your laptop.
Pictures of the passport personal data page and photo. Again, use your phone for this.
Credit cards to make payment online for e-visa fee. American Express is not accepted. My Chase Saphire was also not accepted or my Gemini card. My now defunt Blockfi card worked surprisingly. Honestly, I have to use my dads credit card. Annoying and weird that Chase is not accepted. But if you have issues paying, you're not alone.
How to Get Vietnam Evisa
Here comes the full process of how to get an e-visa for Vietnam.
Access to the Vietnam e-visa online official website https://evisa.xuatnhapcanh.gov.vn > select E-visa > select For foreigners.

Read the instruction and check the box "Confirmation of reading carefully instructions and having completed application" and click "Next."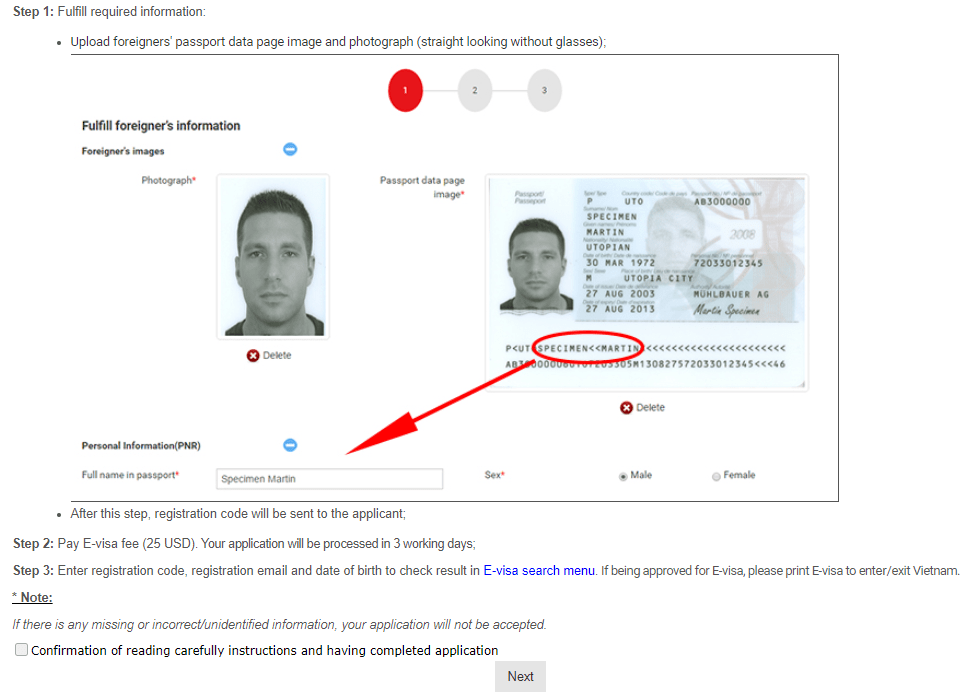 Upload your photo and passport personal data page as instructed.
Fill out the form as required: your full name; gender; date of birth; current nationality; religion; passport number and type; expiration date of your passport; intended length of stay in Vietnam, along with a temporary residential address during this period; entry and exit dates as well as gate details for both occasions and finally contact details including email address and phone number.
I would pick an entry date a day or two before you arrive just for some flexibility. You can enter anytime on or after the entry date but not before.
Verify your information, and then you will get a verification code.
Make sure you note it somewhere as you'll need it later on.
Pay for the e-visa fee (USD25) via an online platform.
Access this website again a few days later, visit the e-visa search menu and enter your registration code, email, and date of birth to check your e-visa application processing.
Get a link to download and print the one-page e-visa letter for Vietnam when your application is approved.
Show to letter/visa code at the entry point to enter Vietnam to get into Vietnam.
Processing time
An e-visa for Vietnam costs you 25 USD (per person). This fee is not refunded if your application is refused or your visa letter contains any wrong details since you provide incorrect details in the application form.
It normally takes 3 working days to receive the e-visa letter; however, the processing time may be affected by a large number of applicants or public holidays.
As such, you should apply for your visa a week before your departure.
In case you need to get it faster, then I would suggest using an agency like Vietnam-Visa.com.
Vietnam Evisa Extension
You cannot extend the Vietnam e-visa. You get a month, then you must leave the country. You can come back in on a new e-visa and there seems to be no limit as to how many times you can do this.
What YouTubers like Max McFarlin and Chris Lewis are doing is that they get 1 month in Vietnam, then leave for a new country after a month and make new videos.
The July 1 2020 Vietnam Visa Rule Changes
So Vietnam passed some new regulations that directly affect their tourist visas that now go into effect on July 1st 2020. The biggest and most significant change is the "permitted to stay" stamp which has now been changed from 90 days to 30 days.
This was a pre-Covid change and it's a big one. Even if Vietnam offered a 1 year tourist visa again, you would only be able to stay in the country for 30 days at a time.
Business visa crack down
I also want to mention that there were a lot of agencies offering business visas but there has been a crack down on fake business visas. This was the go-to visa for most (as Americans got a 1 year) wanting to stay in Vietnam long term.
Now the only options seem to be to get married or get a job in the country.
30 day visa runs are stupid
Fat and Broke says its not big deal, but trying to live somewhere where you have to leave every 30 days is stressful. You're not guaranteed entry back in and it makes it difficult to travel domestically. You can't go somewhere if you know in a few days you have to leave the country.
So no one is going to plan to visit Vietnam beyond a month.
Time will tell if this immigration policy change is good or bad
Like any expat issue, it's not my country and they can make whatever rules they want. It's disapointing but I do understand countries wanting to get a hold of their immigration process.