The Ha Giang Loop Vietnam - Yep It's Really That Incredible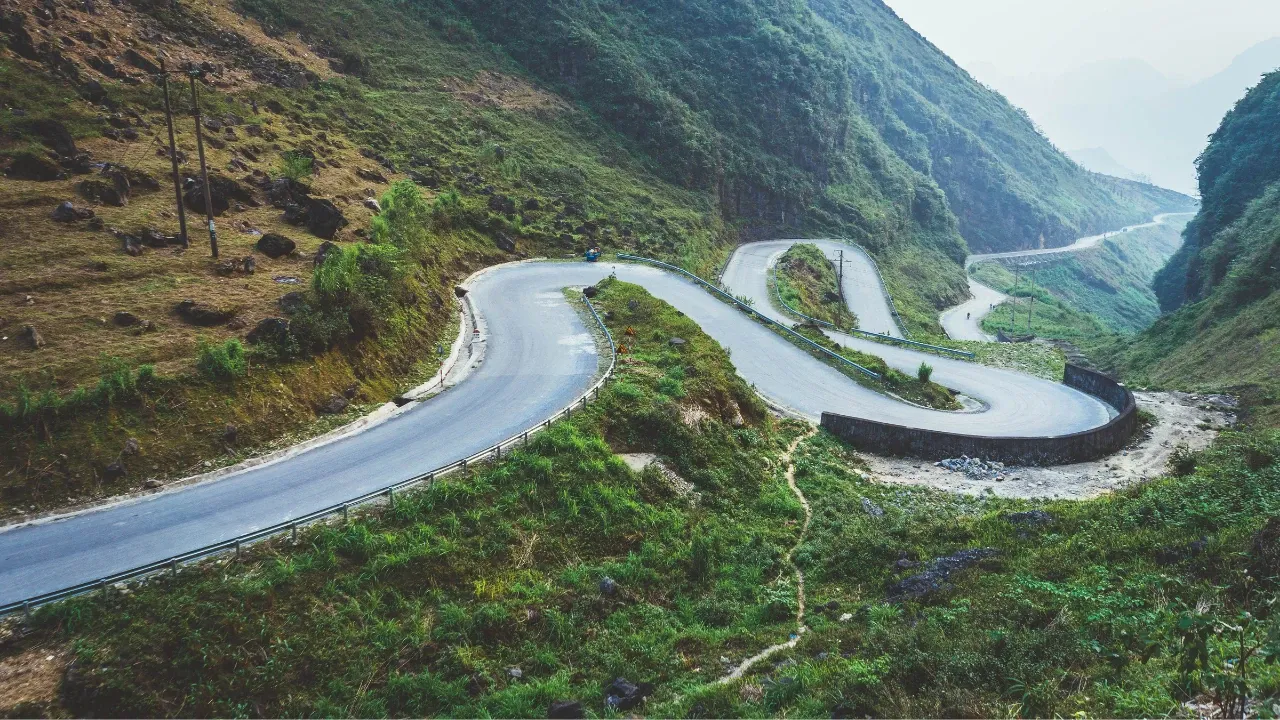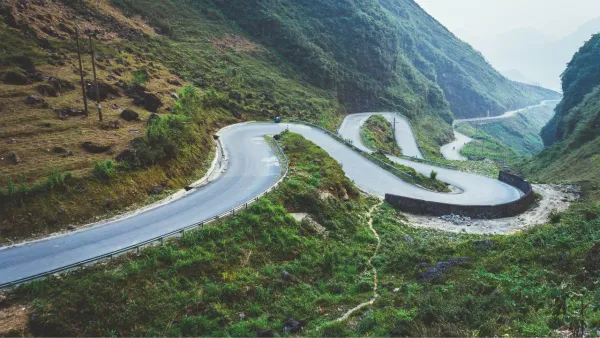 Ha Giang is a stunningly beautiful, northern most province in Vietnam where you can find the border with China. It used to be quite a dangerous drive through the mountains, but over the last 5 years it has developed into one of the most beautiful, scenic motorcycle adventures I've done (still dangerous, more on that later).  
We started off in Ha Giang city, then headed to Quan Ba town, then Yen Minh, then finished the day off in Dong Van. The next day we headed up to checkout the flag pool that represents the most northern point of Vietnam, then the actual most northern point of Vietnam, then we visited the Mai Pi Ling pass and stayed in Meo Vac. Our final day was a day long drive from Meo Vac to Ha Giang.
Is Ha Giang Dangerous?
Yes the Ha Giang loop is dangerous for inexperienced motorbike drivers.
If you have less than 2 years experience driving a motorbike in asia and you have no idea how to drive a motorcycle then Ha Giang is incredibly dangerous. With sharp turns overlooking a cliff and fast on-coming traffic, if you don't know what you're doing you could very well get yourself killed.
I don't say this to scare anyone, but you seriously need to know how to drive a motorcycle and you need to have some experience driving in Asia because drivers here are themselves pretty reckless. There are plenty of stories of foreigners literally driving off a cliff or getting hit by an on-coming truck simply because they drive too fast, don't know how to brake properly and don't know how to anticipate other drivers.
I've been driving motorcycles for over 10+ years for context. I had no issues on my trip, but there were spots and events along the road where I could definitely see a beginner getting hurt.
How to get to Ha Giang
It's quite easy to get to Ha Giang, all you need to do is hop on a sleeper bus in Hanoi. I would suggest pre-arranging everything as much as possible as you'll want to get going the day you arrive in Ha Giang.What we did was connect with a motorcycle rental / tour group operator known as Moto Go to rent out our bikes and gear.
When we got on the sleeper bus in Hanoi, they knew exactly where to drop us off. We left Hanoi at around 8 pm and arrived in Ha Giang at 4 am. Obviously we took a quick nap, woke up at 7:30 am and began our bike trip.
What type of bike should you get for Ha Giang?
When in Ha Giang you can rent a simple 125cc motorbike or a larger, 150cc dirt bike. Obviously, you're going to want to get a dirt bike. They are larger, heavier and perform much better on the rocky dirt roads you'll encounter at some point when driving. The downside? You must know how to drive a motorcycle.
If you have no idea how to drive a motorcycle or a simple motor bike then I would first suggest taking a year to learn how to do that first properly as Ha Giang is no place to learn that.
What to bring for your tip
For the trip you're going to want to bring with you a few million Vietnamese Dong. Once you're outside the city of Ha Giang there are no ATM's. Obviously, there is not much to buy out in the countryside. But you will come across vendors selling different types of fruits, snacks and drinks.
By having cash with you it's not problem paying for any food you need. Also, there are small towns in this northern province. The bike trip begins in Ha Giang, but you can stop in places like Quan Ba, Yen Minh, Dong Van and Meo Vac.
Clothing, backpacks, laptops, cameras
You can leave your laptop where you rent your motorbike from with no problem. As a self employed guy living in Saigon, I needed to take my laptop with me for our trip as we worked for a few days in Hanoi. For clothing and a backpack you'll need one backpack per bike. Load it up with a change of clothes and a large water bottle.
If two people are on one bike then make due and pack lite. If you decide to go in winter clothes you'll need the appropriate clothing. I was wearing a sweater and a heavy coat. For summer you'll need pants and something to protect your forearms from the hot sun.
Ha Giang Trip
So let me breakdown what our trip entailed so you can plan everything out. While you can spend 5 days driving around, 3 good days was all that was needed.
Day 1:
The first day of our trip we saw a lot of stunning views. We drove from Ha Giang to Quan Ba. This is where you will arrive at heavens gate. The place named by the French because past the gate is was so beautiful.
Beyond this point the landscapes are simply breath-taking. I know that's a bit dramatic to say but Ha Giang really lives up to the hype. This was taken at a roadside market where locals were selling random fruit, spices and sweet potatoes.
As you keep driving through the stunning scenery you'll eventually come across a Hmong village called the Lung Cam Hmong Cultural village. When we arrived there was a wedding going on. But this tiny village had again stunning views and was like going back in time 100 years.Last, as the day was coming to an end we stopped by the Hmong Kings Palace in Dong Van. Well worth the stop. It's a living museum and a relic of a time gone past.
After, we drove to our homestay in Dong Van. Dong Van is a little town in the mountains with a dedicated rest area for travelers. Here you can get your coffee in the morning, have a nice dinner on the street and even find a place to grab a few drinks or a bottle of wine. It's nothing special to write home about, but as a place to relax and get ready for the next day it was perfect.
Day 2:
So we woke up in Dong Van of course and headed out nice and early. On the second day we had a fairly long day ahead of us. First was the drive to the Lung Cu Flag Pole. A Huge flag tower that signifies the northern most point of Vietnam. The roads to this flag pole were fairly treacherous but not impossible for an experienced driver.
At the flag pole there is not a whole lot to do. Budget 30 minutes here, climb up to the top for some nice views and then carry on.
The next destination was the Mai Pei Ling Pass. It's quite a far drive but you're really now deep into Ha Giang Province surrounded by mountains and spanning visas. The Mai Pei Ling Pass is a natural boarder with China.
If you want, you can take a boat ride on the river itself. You can drive down to the boat or walk down. Walking down is quite exhausting and not recommended if you're in poor shape. The road down to the boat is also very dangerous and we were strongly recommended to go that way.
So we marched down the rocky path which took 30 minutes. The boat ride was mediocre as I've done this sort of thing numerous times, but if you're traveling abroad for the first time you should totally do it.
After, we spent an hour marching backup the rocky path to the road to continue our bike trip. From here, we drove to Meo Vac where we ran into Sunny of the Best Food Review Show Ever YouTube channel.
Meo Vac simply put is awesome. It's a camp ground with amazing food, wine, beer, and lot's of people to socialize with. They have comfortable rooms for a great price and the area is tucked away between two mountains. If you're going to the Mai Pei Ling pass plan on staying at the Clay House or another option located in the Meo Vac cultural community.
Day 3:
The last we simply drove all the way back from Meo Vac to Ha Giang. We left around 10 am and arrived in Ha Giang around 3:30 pm. It does take that long so do plan on spending the last day driving back.
Like everywhere else in this province it's a beautiful ride back, though do be prepared that the roads on the way back are some of the worst. It takes so long simply because you need to drive slow and carefully.
Ha Giang Bike Loop Conclusion
What's left to say? Ha Giang is simply the best trip you can take in Vietnam. While most go to Ha Long Bay or Binh Dinh, if you're looking for adventure then plan a few days for Hanoi, a few days in Ha Giang and then back to Hanoi.
I went at the end of December, spent my Christmas in Hanoi and then left for Ha Giang. Upon return, we celebrated the new year in Hanoi. Overall, it's a bike trip that lives up to the hype.