The Best Vlogging Camera Ever - The Sony X3000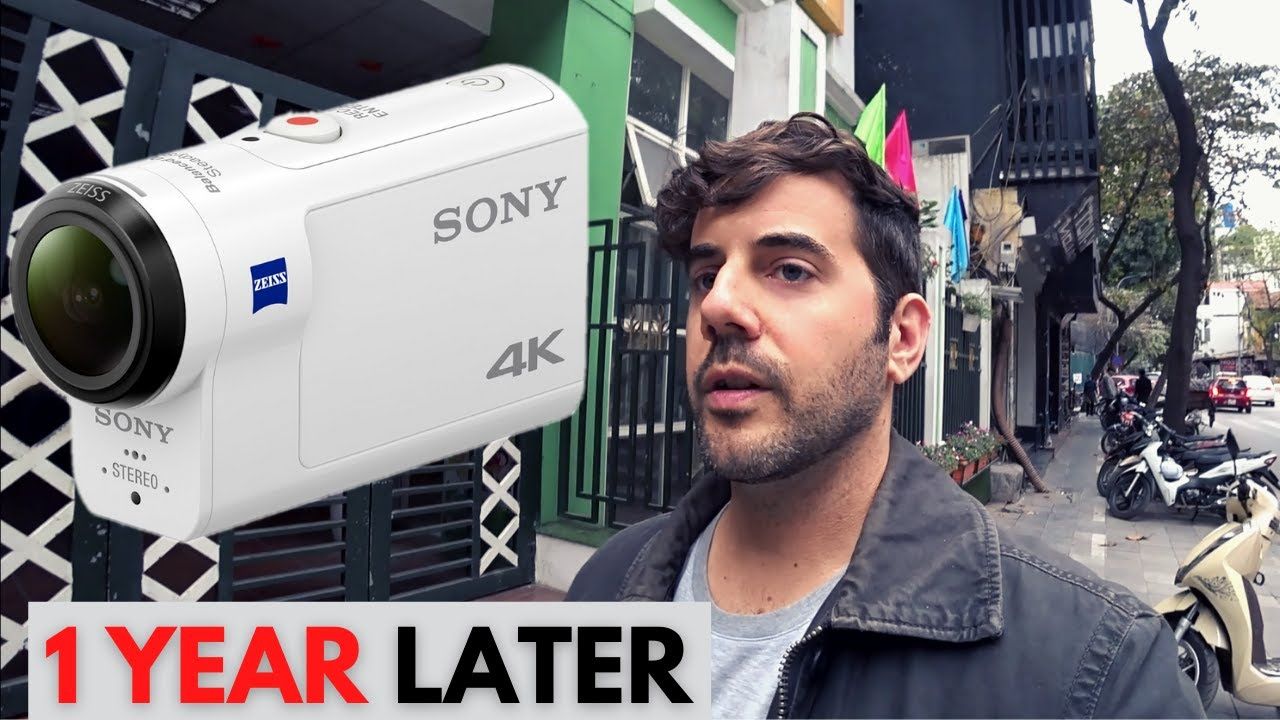 So you want to start vlogging about your incredibly exciting (or boring) life? You'll need a camera for that. The best vlogs are engaging, tell a story and have an interesting perspective. More important than the video quality is the actual story.
Sure, if you're an aspiring film maker or you want to make tutorial and how-to videos then you may want to invest in an expensive mirrorless camera; but for most people wanting to vlog however, an action camera is still one of the best options for vlogging surprisingly.
They are small, light and easy to use.
Vlogging with an action camera vs phone
An action camera is a great choice first and foremost because it fits in your pocket and you'll actually take it with you. What good is your big heavy camera if it's home because you did not feel like taking it with you?
Even professional travel YouTubers like Drew Binsky use an action camera for his walk and talk, day travels through a city. He personally uses the latest and greatest GoPro.
An iPhone is a great choice too, but as phones become your "second brain" that have access to 2FA for things like bank accounts, pictures and more. I personally find risky to use a phone. But it works for some creators like Johnny FD.
So in this detailed guide, I'm going to share with you all the pros and cons of using the Sony X3000 Action camera for vlogging on YouTube. It's not the perfect camera, but it's close in a lot of ways for anyone looking to create IRL style vlogs.
These cameras are getting more difficult to find so I definitely suggest buying one if you see it as Sony no longer makes these great action cameras.
Sony X3000 Pros
Here are the main positive and selling point of using the effective vlogging camera:
Small, light and fits in your pocket.
Stabilization – Essential for walk and talk vlogging.
Decent low light for an action camera.
Good battery life. You don't need to carry multiple batteries like the GoPro.
Wide angle, medium angle and narrow angle view options.
Good audio quality.
Ability to shoot in 4k is cool.
Comes with a protective water case.
A tiny monitor is included.
Can mount it on a cheap selfie stick for ease of use.
Vivid and neutral color profiles.
Has it's own tripod.
Multiple frame rates.
Small, light and fits in your pocket.
This camera is small and looks like a tiny camcorder. It easily fits in your pants pocket or jacket. It weights next to nothing and is the perfect on the go camera for the casual vlogger. You can also vlog with this just by holding it in one hand with ease.
This is a big selling point because you can actually get the shot. What good is a big camera if it takes 5 minutes to setup by putting on the lens, microphone and tripod? The event you wanted to capture is finished.
It's also useful to have a small camera like this because you'll actually take it with you. Even something like a point and shoot like the Sony ZV-1 or the G7X while small, is not quite pocketable.
The Sony X3000 is simply a tiny camera you can always have on you to record interesting events and places as they happen. Also, some places are not too keen on you walking around with your big camera. Want to go into a nightclub or bar and record? You'll be asked to leave your camera at the door.
Also, some places you simply won't want to lug around your big heavy camera with a fluffy microphone. Want to go to a full moon party in Thailand or a party district in your city? A small camera is your go-to option.
BOSS Stabilization
Video by default is shaky without any type of stabilization. Most don't realize this until you've tried vlogging with a camera that has no stabilization like the Canon SL3 where your clips are a shaky mess.
What's great about the X3000 is that it has mechanical stabilization built in (call the BOSS system) so your video is smooth and natural looking when walking or doing a point of view shot.
Another good thing about this is that because it's mechanical stabilization and not software like the GoPro, the Sony X3000 holds up much better at night.
Decent in low light for an action camera
Most vloggers are not our roaming the streets at night vlogging, but there are some situations where you will want to shoot in a low light setting. For example, you're on the famous Khao San road in Thailand, as a party street it only gets fun and interesting at night.
Because the Sony X3000 has mechanical stabilization and not software stabilization like the GoPro, it again  performs to an acceptable in low light settings where the GoPro is completely unusable.
X3000 has good battery life
Good battery life for an action camera mind you. The GoPro lasts an hour, the X3000 can go about 2 hours on a full charge. Larger cameras where you can switch out the lens can last 3 or 4 hours easily.
For an action camera the battery life is good, but as it's a small camera it's going to have a small battery.
Wide, medium and narrow angles
Most "vlogging" cameras that come out are too tight on the face. The Sony ZV-E was marketed as a vlogging camera and has no stabilization and a 24mm lens. So your big head is the only thing in the shot.
Good vlogs are wide and vloggers want wide. The X3000 has a wonderful wide angle that's not too warped and fish eye like the GoPro. It looks great and natural to the human eye and makes shooting clips with the camera easy because you know you're going to be in shot and in focus. This is the angle you'll be using most.
Next is the medium angle. Ideal if you want a look a bit more similar to that of a standard mirrorless camera with an 18mm lens on it. This angle is a nice because it's easy to mix in shots from this action camera with that of a larger camera. It's also helpful if you just don't like that wide angle look.
Last is the narrow angle. The most misunderstood angle. It's designed for close-up shots. Helpful when trying to show off food or drinks as part of your vlog.
Excellent audio quality
I'm incredibly impressed with the internal audio on this action camera. It sounds as good as my old Canon 200D with a Rhode Microphone attached. This alone is a massive selling point of this camera compared to using an iPhone or a GoPro.
Another selling point is that you can turn the X3000 away from you and it sounds amazing. This is ideal when doing point of view shots and you're narrating what is going on. A lot of beginners don't realize that most cameras sound good when pointed at you, but when pointed away the audio sounds poor. Not so with the X3000.
Last, you can attach an external microphone to this action camera. Want to use a lapel microphone to reduce wind noise? You can with this camera.
Ability to shoot in 4k
You can shoot in 4k with this camera. I'm still amazed that this thing came out years ago. I almost never shoot in 4k because editing the clips on a laptop take an excessive amount of time.
But the ability to make 4k videos exists with this camera. You are however limited to 30 FPS when in 4k. Personally, I love vlogging at 60 FPS. It just looks right when making a walk and talk video.
Comes with it's own protective water case
If you're not already sold on how awesome this camera is, it also comes with a protective underwater case. I tested the water case out when I was in Phu Quoc in Vietnam and the clips look good.
The camera does get a bit warm when recording under water so I would not push this camera beyond a few minutes under water. But if you're looking for something that can get the b-roll shot under water the X3000 is a great choice.
Has a tiny monitor included
It's funny how it's such a big deal that GoPro released a "media mods" update to their device when the Sony FDR X3000 has had it's awesome little monitor since it's release.
It's also included in your purchase. This monitor is helpful because it allows you to easily frame your shot because you can see what the camera sees.
It connects to the camera via blue tooth and allows you to see what the camera sees. Useful for when you want to focus and frame your shot. You also have the option of not using it and saving battery life unlike the GoPro.
Can mount on any cheap selfie stick
The Sony X3000 is compatible with any selfie stick due to it having a screw mount at the bottom of the camera. Unlike the GoPro which requires expensive accessories, you can get any basic selfie stick and it will work fine.
Vivid and neutral color profiles
This camera comes with two color profiles. Vivid which is bright and colorful but not with the super contract look of the GoPro. Then you have neutral which is a bit subdued. Neutral is ideal if you want to have a bit more control where you color grade your vlogs.
Dedicated shooting grip -Has it's own awesome tripod
Sony has created what they call the "shooting grip." It's functionally a little tripod and grip combination where you can attached the monitor to it was well.
That means you can view the monitor and hold the tripod at the same time. It's well designed, cheap and makes vlogging with the X3000 a lot of fun. It also look like a little star wars space gun which is cool.
Multiple frame rates – 60P, 30P and 24P
The Sony X3000 looks best at 1080P 60 frames a second. You can also shoot at 24P and 30P which are popular frame rates that match with any larger camera. Please note that 4k is limited to 30P.
When shooting with multiple cameras, you need to decide what frame rate you will be first using. If your clips are all at different frame rates it will make creating the final video difficult. This is a non-issue with the X3000 as you can shoot at 24P with both a mirrorless camera and the X3000 for the same video.
Sony X3000 Cons
So the X3000 like all cameras is not without it's limitations and drawbacks. Here are the aspects of using this camera you'll find the most frustrating:
Wind noise.
Terrible low light performance.
Takes a long time to charge.
You may need a second battery or power bank.
Rendering takes more time.
Time for an update.
Wind noise
No surprise here, anyone who has used a point and shoot or an action camera knows what I'm getting at. This camera has excellent audio but it is sensitive to wind. You need to be aware when vlogging to avoid direct wind as it ruins the audio of your vlog and will annoy your audience if it is too excessive.
The best work around that vloggers who use this camera like Bald and Bankrupt use is to cut up a sponge and cover the stereo speaker in the front. I do this too and it makes a massive difference in wind noise.
Mediocre low light performance
With regards to low light, it's mediocre at best. Better than the GoPro but nowhere near a proper mirrorless camera. It's good enough to capture some interesting clips for late nights with friends but as an action camera, the sensor is too small to perform well in low light.
It does a better job than the GoPro, but if recording at night is a primary focus for you then skip on action cameras all together.
Takes a long time to charge
This action camera comes with a USB charger. It's helpful as you can simply charge this camera using your laptop or any outlet but just be aware that it's slow. On average it takes my camera about 2.5 hours to charge to 100%.
You will need a power bank
For action cameras the battery life is good, but if you're going to be out all day shooting it won't last you. I would suggest getting a small power bank that you can use to charge your camera in between shots.
Rendering takes more time
Rendering speeds depend on a lot of things: your processor, graphics card, how much editing of the clips as been done as well as the file size. I find the Sony X3000 looks best recorded at 60 FPS and rendered at a variable bit rate of 30 to 40.
As it's easy to make long videos with the X3000, the higher frame rate and bit rate cause videos to take a bit of time to be rendered.
Time for an update
The X3000 came out in 2016! Everyone who uses this camera loves it but we're all waiting on the X4000 to come out with an upgraded sensor so the video quality looks even better out of this.
Sony X3000 - The Best Casual Vlogging
I'm extremely impressed with this action camera. Small, light, great audio, good video, wide angle, comes with a monitor, a water proof case and has an excellent additional tripod.
If you're wanting to vlog consider getting the X3000 and it's tripod. It makes creating, long, interesting YouTube videos easy and fun.